At Brehob, we take a lot of pride in our team. We're focused on developing in-house experts who can do everything from recommending the right equipment to providing the most effective preventative maintenance to keep you running.
As part of our drive to meet the highest standards in excellent service, Brehob maintains EASA certification through the Electrical Apparatus Service Association.
What is EASA Certification?
This designation, awarded through an objective, third party audit, proves that Brehob follows the prescribed best practices to consistently deliver quality electromechanical repairs that maintain or improve AC electric motor efficiency and reliability. In other words, that means Brehob has successfully demonstrated that it follows industry standards for electric repairs, as defined by ANSI/EASA AR100.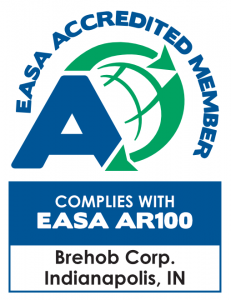 What does EASA Certification mean for you?
It means you're working with the best! EASA member companies provide repair, service and sales for the operation and maintenance of electric motors, generators, drives, controls, pumps, and other electromechanical equipment. Through the Association's direct technical support, education, and reference materials, our experienced technicians are even better able to provide you with the service you need. You can trust that our seasoned service technicians have the knowledge and training to troubleshoot, install, modify, or upgrade outdated electrical service—the right way.
Top Vendors + Superior Service
We back up our technical know-how with a full line of top commercial and industrial, low and medium voltage, IEC and NEMA equipment, including motors, stand-by generators, conveyors, variable frequency drives, controls, gear reducers and accessories. What's more, Brehob's Electrical Service extends throughout all of Indiana and is available 24-hrs a day, year round, to take care of your facility's breakdowns. Our factory-trained and certified electrical/ mechanical technicians offer on-site emergency service, scheduled service, and preventative maintenance.
Bottom line? Brehob has everything you need in an electric solutions provider.
Want to discuss your electric needs? Give us a call at 317-231-8080.